This website contains educational resources that are based on the UNESCO-recognised HIV and AIDS collections held by Lothian Health Services Archive (LHSA). Theses collections document the social and medical response to the HIV and AIDS epidemic in Edinburgh and the Lothians from 1983 to 2010. It evidences the journey of a medical condition which was, at first on diagnosis, a guaranteed death sentence, to a condition that people can now live with in good health to near normal life expectancy.
The resources are linked to the Curriculum for Excellence (S2 and S3) and are intended for use by teachers, youth groups and educational professionals. Rather than being complete lesson plans in themselves, these resources provide a range of suggested activities based on the collection items.
How to use this website
Click on the bus stops above to access resources, audio-visual material and images linked to the following subject themes: Expressive Arts, Social Studies, and Health and Wellbeing.
Each resource contains:
 A cover sheet with a list of experiences and outcomes that the resource matches
A fact sheet with historical information relating to the collection items used in the resource
Thumbnail images of the collection items
Suggested activities using items in the collection
Select the resource you would like to use and then use the thumbnail images as a reference to select the required images. All images and audio-visual material are free to download and use in an educational setting.
Alternatively, you can browse the image bank to see which images would be most suitable for your lesson plan. You can click on the tags below the image to take you to a resource that uses this item in the suggested activities.
To find out more about the accessibility of this website, please click here.
The 'Take Care' Bus
The pink bus in the above animation was used to promote the 'Take Care' Campaign which was launched in 1989 jointly by the Lothian Health Board and Lothian Regional Council. This was an innovative campaign which aimed to educate the public on the risk of HIV and the importance of safe sex.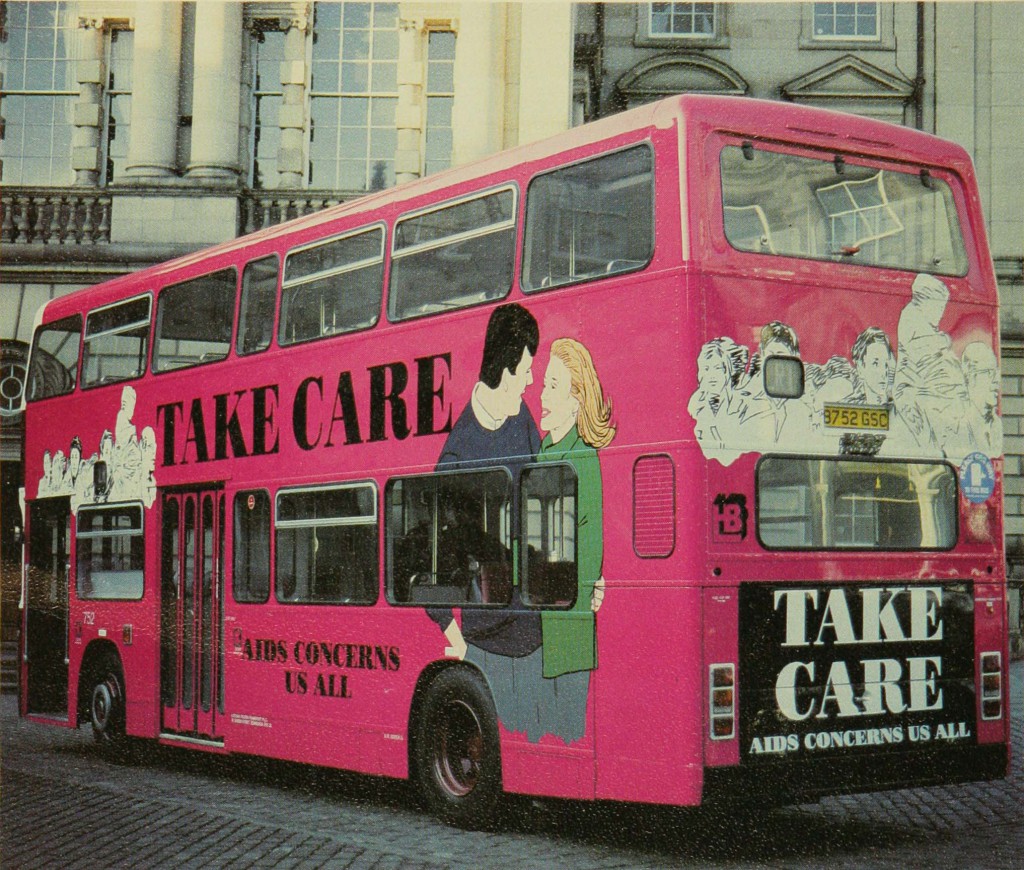 The bus encompasses the three subject themes covered in this website:
Expressive Arts – The bus was part of a highly visual campaign which used a distinctive logo and the colours blue and pink on a wide range of media.
Health and Wellbeing – It was used to promote the message "take care of the one you love" and raised awareness on how HIV was transmitted.
Social Studies – The statement on the bus "AIDS concerns us all" aimed to dispel the myths surrounding AIDS and reduce the stigma associated with the disease. This slogan was used throughout the 'Take Care' campaign.